The month of May has yielded a bumper crop of writing outputs. Not only have I been able to add an unprecedented four new books to my 'shelf-of-books-in-which-I've-had-some-little-involvement', I've also been to two very different fiction 'launches'.
As part of the recent Scottish Mental Health Arts Festival, the Oxpen writing group was commissioned to produce a series of 'postcard poems' on the subject of 'Connected'. This was something of a new departure for the group. Writing as communication is something we do week after week, but adding art into that mix, to come up with a 'zine' was a whole new challenge.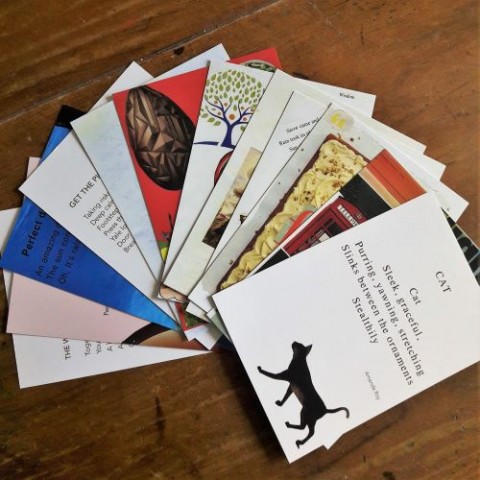 It was a project that came together beautifully, however, with words and pictures complementing each other in a set of twenty-odd postcards for distribution. The launch event was combined with readings, a craft session, and excellent storytelling from Lily, at Real Talk.
If poetry is a way of connecting with others, then, at the other end of the spectrum, a novel does likewise. Last Friday night, in Westport Co. Mayo, I was lucky enough to be a guest of the author, Meetje Swellengrebel, at her launch The Travelling Bladunk.
As well as being one of the best titles ever ('bladunk' means prison), Meetje's book is a fascinating piece of fiction set in the Irish Travellers' community. It's no mean feat for an outsider, however close – a Dutch woman, living and working in the West of Ireland – to write such a sensitive, authentic and engaging story centred on Traveller culture. Meetje succeeds admirably, but then she's not speaking for the community, she's speaking for Becky Moss, the main character whose mantra is, 'I take no prisoners, no will I be made one'.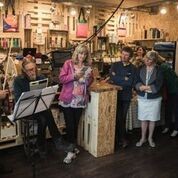 It's a heart-warming, thought-provoking, straight-talking and humorous novel – rather like its launch (and certainly like Meetje herself!) which comprised words and music, a real entertainment in itself.
Thanks to Oxpen for long suffering me as their tutor, and to Meetje for asking me to help edit her book. I'm privileged to do both!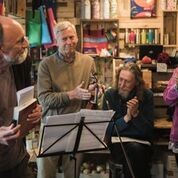 Anne x