Adventure. History. A hero. Whether it's a book or a film, there's nothing better than being caught up in a world that's not quite your own, but the writing is good enough to draw you in and make you feel part of the story.
As a reader, I'm not someone who gravitates naturally to historical fiction – if it's pre-World War Two, I need a lot of help to 'see' the setting. As an editor, I'd argue this was something of an asset, as it means I'm sure I'm helping the author to create the best scenes they can.
And I've just had the pleasure of seeing two very different books come into print, that score on all these points. From Roman Caledonia to nineteenth century Leith, authors G. A Marshall and R.O Neish, tell the stories of young men on a quest: work, war, love, life, and overcoming the odds stacked against them.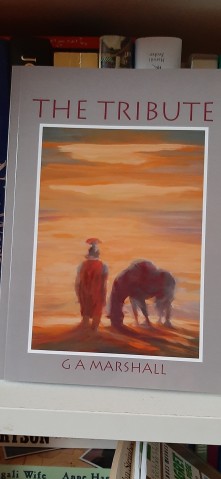 The Tribute: G.A Marshall
PICTISH CALEDONIA, 164 CE.
The Roman army of occupation of the last 40 years is in decline and retreat. Quarrelling local tribes compete for control and rebellion is in the air.
The weakened Romans are buying peace and time with bribes of silver – 'The Tribute' – but even this is failing to retain control and pacify the country.
Against this background, the fortunes of two young people become entwined when their worlds collide: Aileen, a Pictish princess and Gaius, a young, Roman officer.
Their lives are thrown into turmoil as they are caught between loyalties to family and country. The theft of the latest payment of silver to the Picts from the Romans is the trigger for the action that engulfs everyone.
For Gaius and Aileen, it is a battle to survive.
The author really brings alive an ancient time that fascinates so many people, yet is not widely written about – probably because of the research and imagination required to do it justice. In The Tribute, G.A Marshall does this admirably – and all the more so because it's his debut novel. His characters are both engaging, and their dilemmas and relationships very relevant to today's world; Gaius is the perfect hero, the situation he finds himself in, is testing to say the least. This is an adult/YA crossover title that will appeal to general readers and historians alike.
Available at: The Tribute | Lumphanan Press
And Gerry has written about Traprain Law here: Lothian Life the magazine for Edinburgh and the Lothians » Archive » Treasure of Traprain Law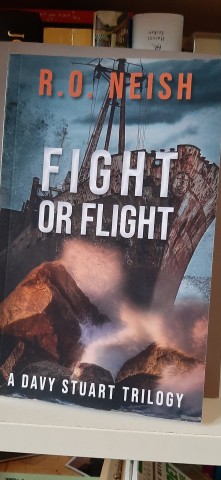 Fight or Flight (A Davy Stuart trilogy): R.O Neish
LEITH, SCOTLAND, 1880
Young Davy Stuart is an apprentice shipwright, down in the docks. He's from the poorest tenements and it's a tough existence; Davy spends his free time, drinking with his pals – and day-dreaming.
After a night out turns particularly sour, Davy needs to get away, quickly. Injured, he wakes to find himself aboard a ship with an understanding captain, and Davy is given a new identity. All he needs to do is curb his notorious temper and grasp this unlikely chance to make a new life far away.
So begins the lifetime adventures of Davy Stuart, resourceful, smart and often hot-headed. The trilogy, of which Fight of Flight is the first book sees Davy grow from adolescence to family man, move from tropical islands to the coast of America, from chancer to hero – and maybe, one day, back home to Scotland.
R.O Neish is, by trade, a loftsman, better known for his non-fiction titles on the history of ship-building. This is the first work of fiction, and he draws on his vast knowledge of ships and travel to bring us the engaging Davy and his two best friends. His adventures: stowaway, murder suspect, voodoo victim are pacy but all too believable, and the worldwide settings a real bonus. Another adult/YA crossover – and a good one to appeal to teenage boys, those who are hard to engage in reading!
Fight or Flight: A Davy Stuart Adventure (The Davy Stuart Adventures Book 1) eBook : Neish, R O: Amazon.co.uk: Kindle Store
And find out more about Ron and bis life and work here: Theloftsman.comMy Novels and Articles
Both books are self-published - and if you're looking for evidence of how high quality self-publishing can be, then these are great examples: the writing and the production.
Happy Reading!
Anne x